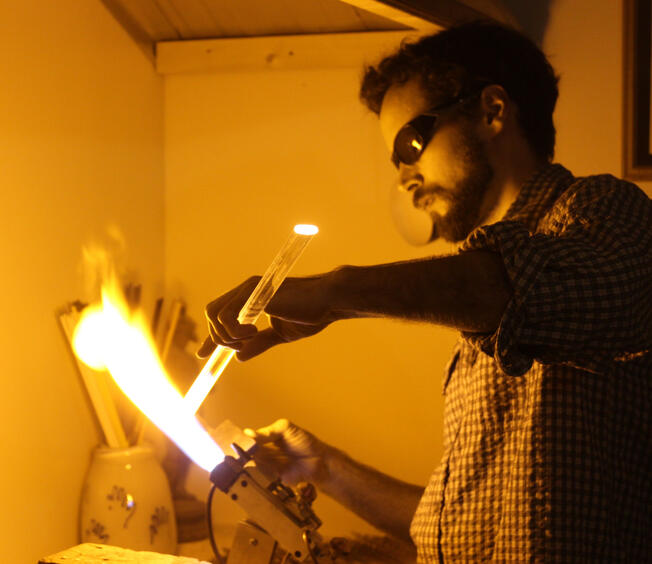 Konrad Hunter
Welcome!
This is the artist page for Konrad Hunter.
For over ten years I've specialized in hand spun glass icicles. I've gotten rather good at them and they've proven popular in galleries throughout the country.
More recently I've broadened out to woodworking and CNC technologies. Laser cut marquetry has captured my interest and is the basis for many current projects.
Glass Work
Maine artist Konrad Hunter has been working with hot glass since attending Penland School of Craft in 2000. Konrad spent several years perfecting his craft before moving to Northern California where he worked as an assistant glass caster. After graduating with a degree in mathematics from Humboldt State University, He moved back to his home state where he is continuing to work as an independent artist.
Konrad's favorite things about glass blowing are playing with fire and the way glass moves. "When I work, I turn out the lights. The glass glows an orange or red when it is hot. Besides being beautiful, it is a great indicator of glass temperature. This in turn informs me on the right moment to make a move. Timing is everything but after the first hour or so it all flows into one long dance. There is a natural elegance to the entire process."
When not glass blowing Konrad can be found exploring the natural wonders of the world, or in the woodshop. Some of Konrad's favorite places include, Hawaii, Thailand, and Costa Rica.
About Laser Marquetry
Laser marquetry is a modern twist on the traditional art of marquetry. Both methods involve creating intricate designs by cutting and gluing together thin pieces of wood veneer. Whereas traditional marquetry used knives and saws for cutting shapes, laser marquetry utilizes a computer controlled laser.
The process starts by createing a vector design on the computer. In the laser control software desicisions are made about bed layout, speed, and laser power. The veneer is placed in the machine and magnets are used to hold it in place. The laser head moves over the bed using rails and motors. A series of mirrors and lenses directs laser pulses into the piece for cutting.
After cutting, the veneer pieces are hand assembled and tempoarily taped together. Veneer is flinsy on its own and must need be glued to a backing substrate. A sandwhich of sorts is created of veneer, glue, and substrate, which is placed in a vacuum bag for clamping. The tape holds the veneer in place for the glueing, but is removed after.
The veneering process is now complete, however there is still much work to be done. This may include sanding, finished and further processing to turn into a final product. My products include coasters, turn tables, and decorative art panels.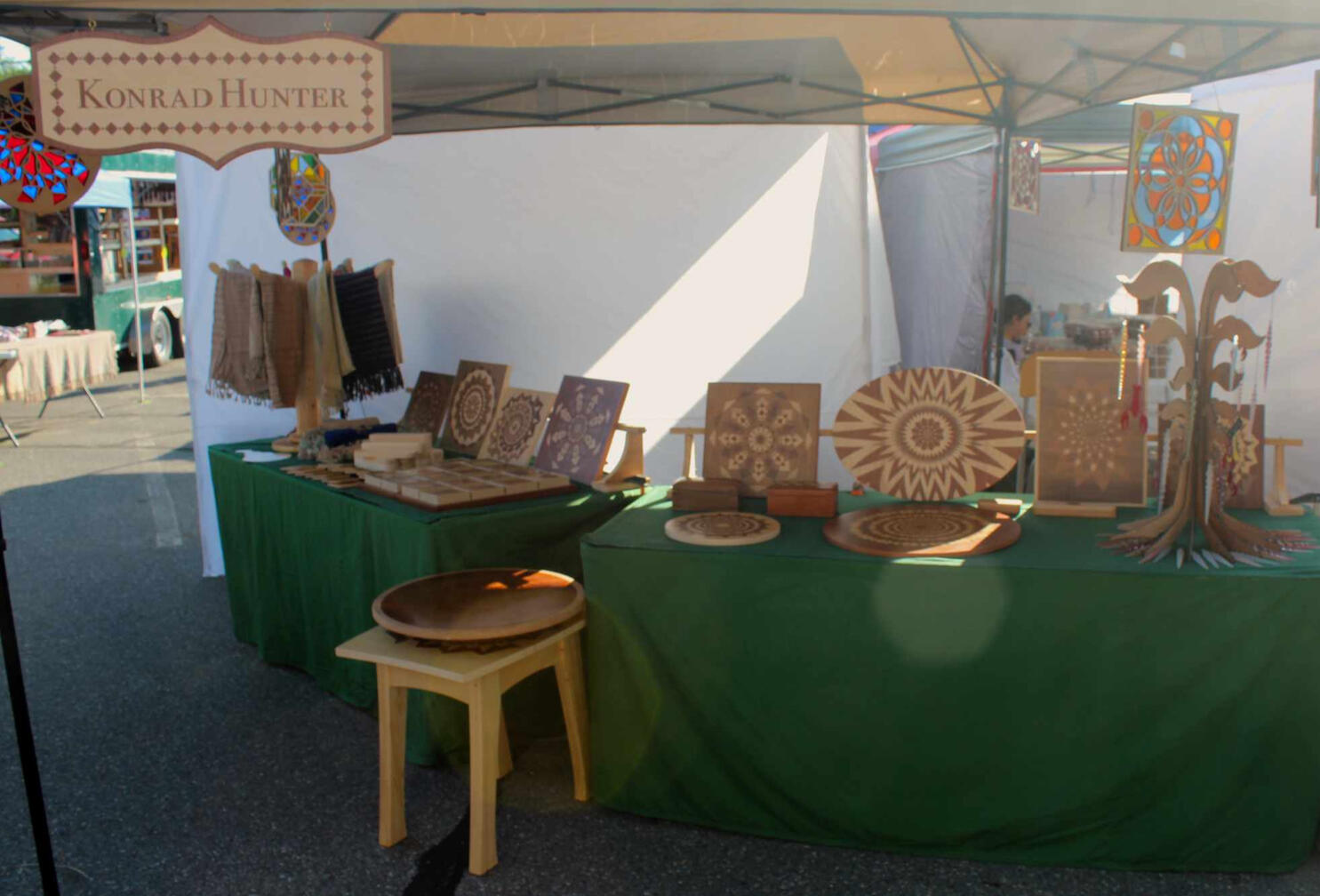 Craft Fairs 2023
Here is my current 2023 Craft show lineup. More to come.May 6: Spring Art Show, Machias Maine
June 17: Margaretta Days, Machias Maine
June 24-25: Arts in the Park, Belfast Maine
July 4: Saco Bay Artists, Saco Maine
July 8-9: Harbor Art & Books Fair, Camden Maine
July 28-30: Grand Lake Stream Folk Festival, Grand Lake Stream Maine
August 19-20: Machias Wild Blueberry Festival, Machias Maine
August 26: Portland Fine Craft, Portland Maine
September 9-10: Eastport Pirate Festival, Eastport Maine
September 16-17: Guild Level Fine Craft Show, Scarborough Maine
Wholesale Page 2023
Here is my wholesale page. Orders may be placed via the below form, email, or phone. please be clear with item name, price, and quantity. Credit/debit, Paypal, or check accepted. Let me know if you have any questions.Minimum 1st order: $200
Minimum reorder: $100
__Contact Form __
Clear Icicles
Small Clear: A traditional glass icicle in clear glass. 3"-4.5" - $4.40 eachLarge Clear Icicle: Similar to the small clear, but larger. 5.5"-7" - $6.60 eachStriped A: Sometimes less is more. A simple twist of glass with transarent red or blue stripes. perfect for a tree or window. 4"-5" - $4.90 eachStriped B: similar to simple icicle A. The colors are more vivid and opaque, with a larger color selection. White, red, orange, yellow, green, blue, purple. Pick your favorite color or recieve a variety. 4" - 5" - $4.90 each
Rainbow Icicles
Rainbow Icicle: Small icicle for your tree or window. The surface of the glass is tinted with silver and gold, then color striped before being twisted into an icicle form. 5.5"-6.5" - $8.50 each
Best Seller!Small Rainbow Icicle: The smaller sibling of the rainbow icicle. They are a bit smaller with a simplified color scheme. For those who like the larger Rainbow but want a smaller price point. 4"-5.5" - $6.30 each
Dichroic Icicles
Small Dichro: My dichroic works are my most elegant and colorful icicles yet. I use a custom coated dichroic glass and a variety of high quality colored glass stripes to make these. 4"-5" - $9.60 eachLarge Dichro: Same as the small dichro but in a larger size. 6"-7.5" - $16.50 each